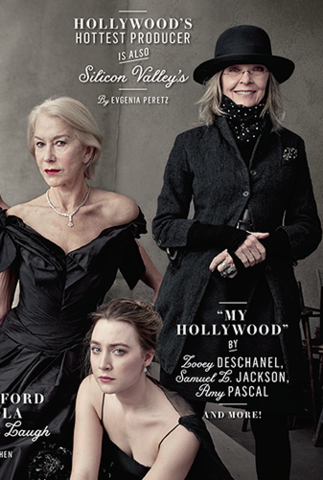 Angelrox is a family business founded by designer Roxi Suger, who conveys her mission of helping women to recognize their unique beauty through her designs and positive sizing. Each item of sustainable, plant-based clothing is sewn from start to finish by a single stitcher using American sewing machines in a historic textile mill in Biddeford, Maine. Angelrox clothing is sold at Suger stores in Biddeford and Portland, Maine, at retail partners around the country, and online at angelrox.com.
Our very own Heather Dawson wearing this beautiful blue dress from the collection on a recent show!
 The Flirt $98 (view online) – This quintessential Angelrox layer works as a versatile poncho, skirt, dress or top. Its gentle comfort is ideal for travel, work, and play. 

Opera Sleeves $28 (view online) – As seen on Diane Keaton. Angelrox opera sleeves are a signature source of comfort and joy, providing cozy warmth for the hands and arms yet lightweight and breathable enough to offer sun protection. Thumbholes hold in place for easy layering and elegant hands; stretch over elbows for timeless grace on formal occasions or scrunch near the wrist to add extra style to any day. 
 
The Hourglass $38 (view online) – The hourglass is perfect every day, serving as everything from an essential infinity to comfort and warm the neck and head or a cozy stretchy comfort shaper. Style as a sexy pencil skirt or textured tube top, or pull up as a regal hood or stretch over shoulders as shrug. 

Luxurious + VersatileThe Wrap $158 (view online) – The wrap evolves through the community it serves morphing with each blessed pair of hands it passes through. great for summer heat & winter chills. Versatile, sustainable, cozy & elegant perfect for travel, work, dancers, yoga momma.  Turns into a skirt, dress, tunic, shawl, vest, kimono; there is no wrong way to play. 
 
The Cardigan $158  (view online) – A favorite essential layer. Elegant and cozy with deep sweet pockets. Wear it classic and long, upside down for a fun shift in proportions, or inside out for smoother lines. Lovely belted, close with a classic brooch, or simply throw it on and go. 
 
The complete line of Angelrox products can be found online at angelrox.com.

Bringing the Best of California Life!