Article via: C
To identify the Best Colleges in California for 2017-2018 we averaged the latest results from the most respected college ranking systems with thousands of real student review scores from around the web to produce a unique College Consensus rating for each school. You won't find a more comprehensive ranking of the top colleges and universities in California anywhere. Read more about our rankings methodology and sources at our about page.
Ranking the best colleges in California is not a task for the faint of heart; no other single state has more world-class, prestigious, selective universities and colleges than California, America's most populated, most influential state. It's no wonder – there is a job to be done in higher education that takes place on an unprecedented scale in California, providing opportunity and career preparation for the most diverse populace in the most diverse nation in the world, in more fields and disciplines than seem possible.
So much of American life finds its heart in California, and preparing students for leadership and service in those fields is higher education's responsibility. In the third-largest state by land size, and the largest in population, government, law, and education in California is a labor on par with most nations – California's economy, in fact, is the sixth largest in the world. California's economy is complex; the biggest wine industry in the US, the center of the technology industry, and nearly the whole of the film and television industry, are centered in California. California's best colleges and universities carry their weight, from UCLA's influential entertainment programs to Stanford's world-shaking engineering and technology.
These are the top Consensus colleges for the Golden State.
1
STANFORD UNIVERSITY
STANFORD, CA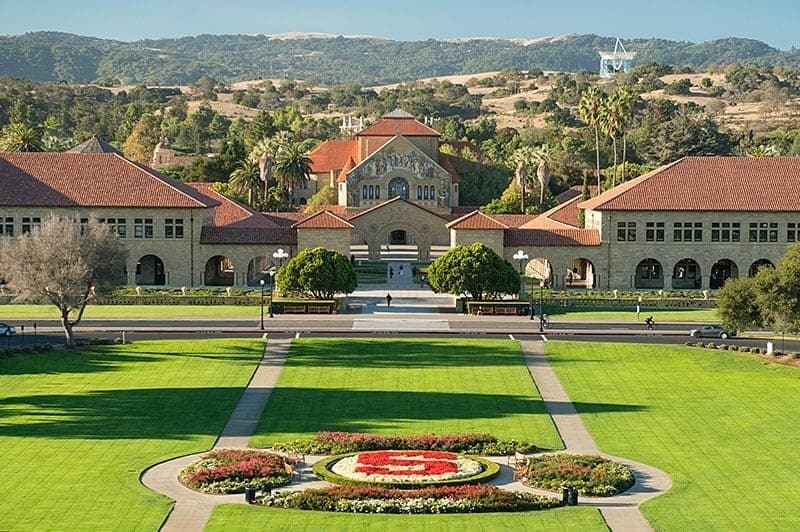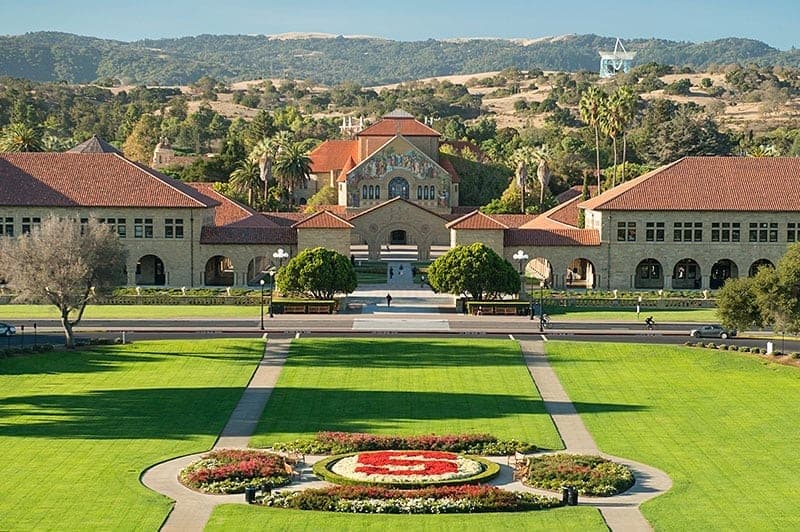 Stanford University's reputation is today what Harvard and Yale were to previous generations – a universal synonym for excellence, recognized the world over as a standard and model for higher education. Founded in 1885 by railroad baron, governor, and senator Leland Stanford, Stanford University was built to be elite, poaching faculty and administrators from Cornell University and establishing a standard that welcomed students of all backgrounds, with brilliance and ambition their main common ground. Today Stanford is ranked the #5 university in the nation by U.S. News & World Report, and holds a central role in the development and sustaining of Silicon Valley.
More students consider Stanford their dream college than any other institution; with the enormous amount of applications they receive, Stanford can only accept 5% of applicants. Those who are accepted join an incredibly elite group, and those who graduate stand alongside at least 30 billionaires, a staggering number of Nobel Prize winners, and a network of alumni whose businesses, all together, could create the world's tenth-richest nation. Like no other institution before it, Stanford has encouraged and developed innovation and entrepreneurship, providing a cradle for Google, Nike, and the internet itself. No wonder Stanford stands out among even the best colleges in California.
2
CLAREMONT MCKENNA COLLEGE
CLAREMONT, CA
Part of the Claremont Colleges – a unique consortium of five undergraduate and two graduate institutions in Claremont, CA – Claremont McKenna College was founded in 1946. CMC's original purpose was to provide educational opportunity for returning WWII veterans, giving young men a college focused on economics and government, with the ultimate goal of educating leaders for a new era in America. Today, CMC is ranked by U.S. News & World Report as one of the top 10 liberal arts colleges in the nation; other notable accolades include Payscale, which ranked Claremont McKenna as one of the top 5 colleges for salary potential, and the Princeton Review, which named CMC the second-happiest college in America.
In the Claremont Colleges, each member institution supplies its particular strengths, while the whole organization provides stability and flexibility. Claremont McKenna's specialty is government, economics, and public affairs, including many multi-disciplinary majors that allow students to tailor their education to their career goals. A 9:1 student/faculty ratio gives students exceptional access to mentorship and guidance, while popular study programs in Washington DC and Silicon Valley give students the chance to gain real-world experience and network with professionals in their field. All of these advantages make Claremont McKenna a superb choice for future public officials and administrators.
3
POMONA COLLEGE
CLAREMONT, CA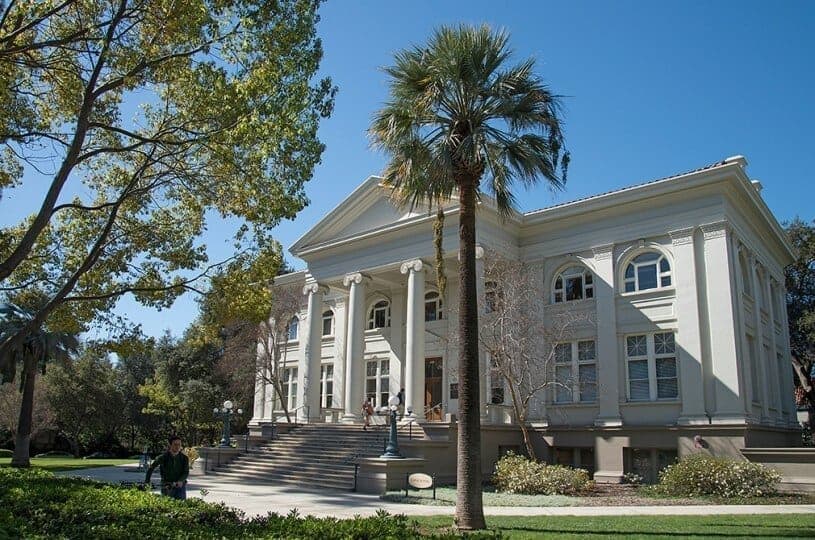 Founded in 1887, Pomona College was built on the goal of establishing an Ivy League institution in California, with a board of advisors from Yale, Dartmouth, and others giving direction. However, by the 1920s Pomona became the center of an even richer experiment, reaching out to other area colleges to establish a unique collaboration that would allow small liberal arts colleges to come together and provide one another with the support and resources of a large university. This organization, the Claremont Colleges, now consists of some of the most prestigious liberal arts colleges in the US.
Pomona College's curriculum is designed around a traditional liberal arts focus, and students can take up to half their courses at any of the consortium schools. An incredible 8:1 student/faculty ratio means students are always able to find faculty for support and guidance, and faculty are encouraged to live near campus to develop relationships. Highly selective (only 9.4% of applicants are accepted), Pomona is also committed to diversity, with more than half Pomona students identifying as minority and more than half receiving need-based aid. With their dedication to access, Pomona has become a force for social mobility and uplift in California.
4
HARVEY MUDD COLLEGE
CLAREMONT, CA
Founded in 1955, Harvey Mudd College (named for mining engineer and entrepreneur Harvey Seeley Mudd), is one of the Claremont Colleges, the prestigious set of coordinated liberal arts colleges in Claremont, CA. As with all Claremont Colleges, Harvey Mudd operates independently and allows students to take courses at any partner institution to round out their education. Ranked by U.S. News & World Report in the top 25 liberal arts colleges nationwide, and as the second undergraduate engineering institution in the US.
The Claremont Colleges are known by the specialization they bring to the consortium, and Harvey Mudd's emphasis from the very beginning has been science, engineering, and mathematics. Among small liberal arts colleges, Harvey Mudd stands out for its mission of combining top-tier STEM education with the broader knowledge base of the humanities and arts, preparing engineers and scientists for leadership. Harvey Mudd stands alongside Caltech and MIT for the rate of graduates going on to PhDs, an impressive statistic for a college of fewer than 1000 students.
5
SCRIPPS COLLEGE
CLAREMONT, CA
Founded in 1926 by journalist and publisher Ellen Browning Scripps, Scripps College is one of the most admired and elite women's colleges in the nation. Scripps' vision for women's rights, education, and entrepreneurship led to a highly innovative and influential institution, and a founding member of the Claremont Colleges consortium (the consortium was first conceived in a letter from Pomona College's president to Scripps herself). U.S. News & World Report ranks Scripps as the #3 women's college in the nation, and a top 25 national liberal arts college.
Scripps is distinguished by its commitment to interdisciplinary study, with a Core Curriculum designed around team teaching, multiple disciplines, and demanding discussion and research. Scripps is also exceptional in their campus, which has long been named one of the most beautiful in America. Designed to combine education and environment, the Scripps campus was intended to encourage students to interact and contribute, underscoring the link between land and learning. With one of the highest rates of Fulbright Scholarships, Scripps is clearly making good on Ellen Browning Scripps' mission.
6
UNIVERSITY OF CALIFORNIA-BERKELEY
BERKELEY, CA
The flagship of the University of California system – the nation's largest and most illustrious public higher education system – the University of California Berkeley is the definition of a Public Ivy. Regularly cited as the finest public university in the US, and even in the world, UC Berkeley is a major research institution founded in 1868 as a land-grant university. While most land-grant universities were founded on agriculture and applied science, Berkeley was always ambitious – its original intention was world-class education in every discipline, from science to humanities and liberal arts, and it still meets that goal, with 14 colleges and schools and 170 programs and departments.
Berkeley, of course, is known for activism and community engagement, and students are still highly involved in both curricular and extracurricular service, political action, and other works; Berkeley, for example, is the nation's #1 source for Peace Corps volunteers. Though Berkeley is, by any measure, a huge institution, students still benefit from a favorable student:faculty ratio and Berkeley is famous for student support and mentorship from a faculty filled with Nobel, Turing, Fulbright, and Pulitzer-winning experts. With its reputation, alumni network, and connections throughout multiple industries, Berkeley graduates can trust their education to take them anywhere they want to go.
7
UNIVERSITY OF CALIFORNIA-LOS ANGELES
LOS ANGELES, CA
Founded in 1919, UCLA was the second of the University of California system institutions, originally intended to act as a Southern Branch for the University of California; it first offered only associate's degrees. But with the tremendous growth of Los Angeles inevitably came tremendous growth for the Los Angeles campus; in less than a decade the Southern Branch was the University of California Los Angeles, and became known throughout the US for its own particular strengths. Those strength include one of the strongest healthcare programs in the world, including the Reagan Medical Center, the Geffen School of Medicine, and world-class nursing, dentistry, and public health schools.
UCLA is one with its home city; having grown together, no other institution has deeper ties with Los Angeles, from government to the film industry, to the great advantage of UCLA students and graduates. UCLA is not just located in one of the most dynamic cities in the world, but is one of the most diverse, innovative, and bold institutions in the world; it has the highest number of applications in the nation, nearly 100,000, and in economic impact, UCLA is one of the most important institutions not only in California, but the nation. From educating some of the world's greatest doctors, to inventing the Internet, the modern world would look very different without UCLA.
8
CALIFORNIA INSTITUTE OF TECHNOLOGY
PASADENA, CA
One of the world's most prestigious STEM institutions, the California Institute of Technology – better known as Caltech – was founded in 1891 as a small vocational school, educating students in technical trades. With no other science and engineering-oriented colleges in the Southern California area, what was then the Throop College of Technology was free to grow, until the drive for technology in WWII and the subsequent Cold War and Space Race allowed Caltech to fully develop into the powerhouse it is today. Caltech is regularly ranked among the top national universities by U.S. News & World Report, while individual science and engineering programs are frequently cited as the best nationally and internationally.
Caltech's faculty and resources are some of the most impressive and enviable in the world, with more than 30 Nobel Prize winners and one of the highest research budgets in the nation. Students benefit from an incredible 3:1 student/faculty ratio, which gives students an unprecedented opportunity to engage in cutting-edge research with real-world implications even as undergraduates. Close personal attention, mentorship, student support, and opportunity add up, and strong financial aid opportunities leave Caltech graduates with low average debt and an unbeatable level of job marketability – although with Caltech's wide and deep connections throughout industry and government, employers come to them.
9
SANTA CLARA UNIVERSITY
SANTA CLARA, CA
Santa Clara University is truly an institution like no other; its slogan says it all: "The Jesuit University in Silicon Valley." An elite, mid-sized Catholic university, Santa Clara was founded in 1851 and is therefore the oldest continually operating university in the state. While Santa Clara was originally created to bring civilization to the Gold Rush, in its long history the university has been at the center of the most significant revolution in modern times – Silicon Valley. With its engineering school, founded in 1912, Santa Clara was a crucial part of the environment that Stanford, San Jose State, and other institutions cultivated.
Obviously, Santa Clara's primary draw for students is its location, but as a Jesuit Catholic university, Santa Clara is quite distinct. In keeping with the Society of Jesus values of rigorous learning and social responsibility, Santa Clara has been a model of social entrepreneurship, building their technology and business-centered curriculum on a foundation of Catholic ethics and faith. For students who are just as concerned with living well as they are with making a good living, Santa Clara provides the means to expertise and leadership that can truly make a difference in the world.
10
PITZER COLLEGE
CLAREMONT, CA
Founded in 1963, Pitzer College is a member of the renowned Claremont Colleges, the elite consortium of top-tier liberal arts colleges in Claremont, CA. Originally founded as a women's college, Pitzer became coed relatively quickly (in 1970) and began a rapid rise in fame and reputation. All of the Claremont Colleges are noted for their particular emphases; Pitzer's curriculum focuses on interdisciplinary studies, liberal arts, social sciences, and environmental sciences. Pitzer's name is highly respected, and with its top 40 U.S. News & World Report ranking for liberal arts colleges, Pitzer is the youngest college to receive such a high position.
Pitzer's primary values revolve around social responsibility, interdisciplinary learning, and environmental sustainability, recruiting and attracting a diverse, highly motivated student body. Many students are drawn to Pitzer's progressive values, while the university's excellence student support keeps them. A 10:1 student/faculty ratio allows students to work directly with some of the most acclaimed professors in the world, and each students is assigned a faculty mentor from their freshman year to guide them through their interdisciplinary curriculum.